Cora™ Platform
The Cora Platform provides the elements needed by solution developers and device manufacturers to create and deploy fully functional enterprise Wireless IoT applications. Working together with a growing ecosystem of partners, Codepoint is developing Low Power Wide Area Networking (LPWAN) based devices and services. The Cora Platform comprises cloud services infrastructure, ecosystem devices, and Components/Development Tools. Solution providers can integrate directly with Cora services or use the integration features, which can route data through popular middleware solutions including Microsoft Azure IoT Central.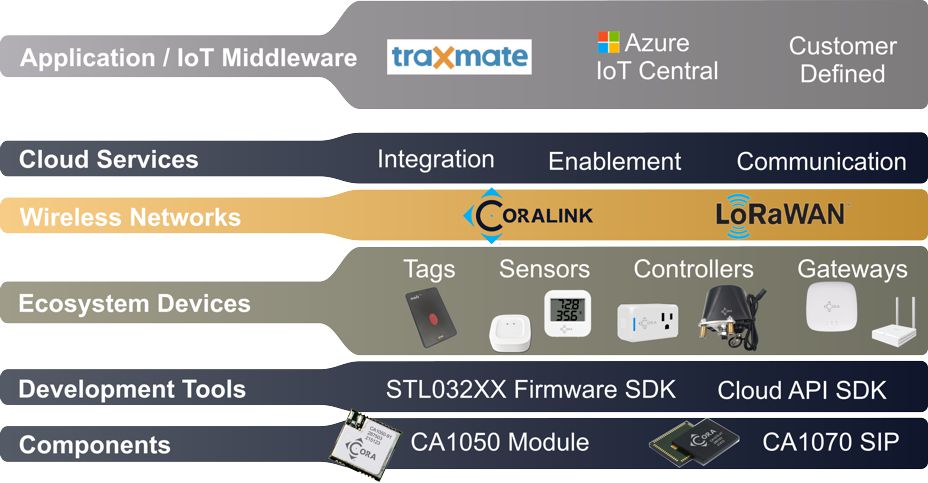 Codepoint Cora offers solution providers ready to deploy infrastructure and devices, which can be configured and integrated with existing applications and well-known IoT middleware providers. Device manufacturers can leverage Cora hardware components and SDKs to connect with any LoRaWAN or Coralink based network.
Cloud Services Infrastructure – Cora Cloud services provide the network infrastructure to manage communication, integration, and enablement for Cora supported devices. The network stack provides built-in support for Coralink and LoRaWAN with integrations for other public LoRaWAN service providers including Helium and The Thing Networks. Solution providers have the choice of using Codepoint cloud subscription services or deploying their own on-premises/private cloud solution when full control of the data is required.
Ecosystem Partner Devices – Codepoint together with ecosystem partners will offer a variety of Wireless IoT devices that provide tracking, sensing, and control capabilities. See Devices for more information.
Components and Development Tools – Cora components and development tools make it easy to add Coralink connectivity to a IoT device, providing a variety of integration options.
LoRaWAN and Coralink™
Short range wireless infrastructure dominates today's business enterprise given the need to support the wide variety of Wi-Fi and Bluetooth devices currently in use by the workforce. At first thought, it might seem an ideal option to use that existing infrastructure to connect Wireless IoT for the enterprise. In practice, short-range wireless has an effective range typically less than 150 ft indoors, whereas LPWAN can range up to 1,500 ft. To cover the same area using short-range wireless versus LPWAN could require one hundred (100) times the number of gateways or employ complicated mesh techniques, which can introduce delay and impact network performance. For IoT sensors, wearables, and connected devices, LPWAN is attractive as a connectivity solution.
LoRaWAN® (Long Range Wide Area Network) is a standardized LPWAN communication protocol based on LoRa radio technologies that can demonstrate the utility of LPWAN to connect devices over a large area or deep within structures where short range Wi-Fi or BLE cannot reach. The standard protocol provides secure, long-range, low-power communications with a maximum range of more than one mile under the right conditions. However, LoRaWAN has shown to have limitations that have hindered its adoption for a variety of IoT wireless applications. These limitations relate to communication delays and the number of devices that low-cost gateways can support.
Coralink is an alternative communications LPWAN protocol based on the same underlying LoRa technology but employs different signaling methods. Coralink benefits from patented techniques that improves channel capacity and performance with respect to LoRaWAN:
Increased scalability to hundreds of devices
Reduced delays for low-power devices to less than one second typically
Peer-to-peer messaging between devices
With these improvements, a low-cost Coralink gateway can cover a large area and hundreds of devices, significantly reducing overall deployment costs. A reliable/redundant solution would incorporate several gateways to ensure coverage and resiliency in case of a gateway failure.
To Learn more about Cora, Coralink, and LoRaWAN, see our whitepaper:
Codepoint Cora™ Connecting the Business Enterprise: Low-Power, Long-Range, Scalable Wireless IoT